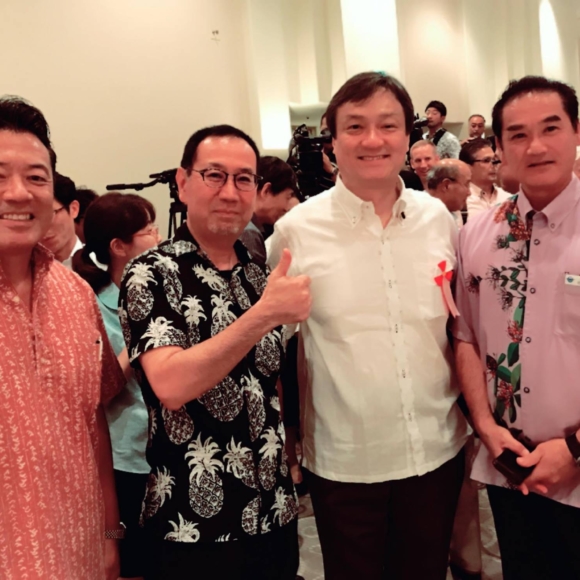 Pic1:  ACCO Members Hawari Habrawi, Jarret Ota, new Ambassador Hiroshi Kawamura and his wife , Tony Sakuda and OTS Chairman Tony Yoshikazu Higashi (having a chat with guests at the reception).
Pic2:  Tony Sakuda , OTS Chairman Tony Yoshikazu Higashi, Ginowan City Mayor Azushi Sakima, Parliamentary Vice-Minister of Foreign Affairs Iwao Horii (member of the House of Councilors).
Okinawa Liaison Office of Ministry of Foreign Affairs held a reception on Jun. 28th at Naha Terrace Hotel to bid farewell to former Ambassador in Charge of Okinawa Affairs Tsukasa Kawada and to introduce his replacement Hiroshi Kawamura.
In his remarks, Ambassador Kawamura said, "Taking up this position, my first priority will be to work towards reduction of the burden on Okinawan people of hosting the U.S. military bases on Okinawa."
He also mentioned that he would like to see Okinawa's international relationships to expand and grow stronger, and that would thrive to make that his other main goal during his tenure.
Kawamura is not a stranger to Okinawa, as he was involved in the G8 Summit of 2000 in Okinawa and organized to send traditional Ryukyu dance groups to participating countries for perform to promote international awareness of Okinawan culture.