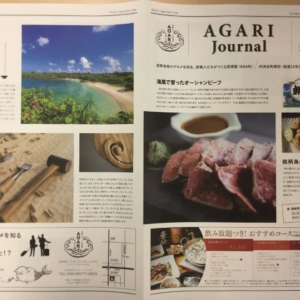 While celebrating its 60 years in business, Okinawa Tourist Service (OTS) has not rested on its laurels. Always keen to look for new business opportunities and ways to promote Okinawa. OTS opened its latest venture in Hamamatsu-cho, Tokyo, on Oct. 9th when the OTS-owned Japanese-style pub (izakaya) Agari opened its doors to public. It's also the first time for OTS to enter into restaurant business.
A pre-opening party for invited guests was held on Oct. 5th and many people had made the trek from Okinawa to be at the party to join their Tokyo counterparts to toast the new venture good luck and prosperous future.
As is fit for a restaurant owned and operated by folks who have made it their task to promote Okinawa, Agari features a wide variety of dishes and drink from the prefecture. It also serves foods from regions where OTS has branch offices throughout the nation.
While toasting to the new venture at the pre-opening party, OTS Tokyo Branch Director Munenori Uehara confessed that getting the restaurant ready for the opening had not been easy. "We had to get everything ready in very short time, but everybody worked hard as a team, and we were able to get all foods, condiments and interior details in place in time, in perfect condition for the opening."
Restaurant Agari serves lunch from 11 a.m. to 2 p.m. and dinner from 5 to 11 p.m. on weekdays. It is closed on Saturdays, Sundays and national holidays. For information, call 050-577-2805. And yes, Okinawa Soba is on the menu for ¥500.
http://agariots.com/