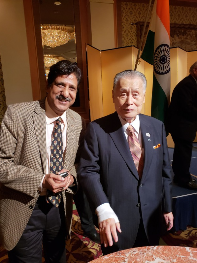 The Indian Commerce and Industry Association Japan organized a farewell party on Nov. 15th for Sujan Chinoy, the Indian Ambassador to Japan, at Hotel Okura in Tokyo,
About 150 people representing political and business organizations took part in the party, including Okinawa Tourist, a member company represented at the party by Pramod Bakshi. Other participants included Prime Minister Shinzo Abe, members of both chambers of the Japanese parliament, Shizuoka Prefecture Governor Heita Kawakatsu and JETRO Director Naoyoshi Noguchi.
Currently, the friendship between India and Japan is considered to be at its highest level ever, specifically Prime Minister of India Narendra Modi and Japan's Prime Minister Shinzo Abe are personally close friends.
In August 2000, Prime Minister Yoshiro Mori made an official visit to India that is said to have opened the doors wide open to friendship between India and Japan. He is often said to be earning him the "father of Japan – India friendly relations."
India is also currently building a high-speed rail link that will connect four mega-cities Delhi, Mumbai, Kolkata and Chennai. The first part of the project between Mumbai and Ahmedabad is scheduled to go into service in 2022.
Over 1,300 Japanese companies are active in India, and Japanese investments to the country are very large. Over 31,000 people from India reside in Japan on a long-time basis and there are programs to study business and Japanese society in various companies.
Nearly one thousand Japanese teachers from Japan have been dispatched to India to teach Japanese.
In addition, the issuance of visas has been simplified so that Japan and India can focus on mutual tourism resources. When Japanese go to India, they can receive visas at the airport after arrival without having to obtain one in advance.
It is expected that India and Japan will further strengthen their relationship in the future.